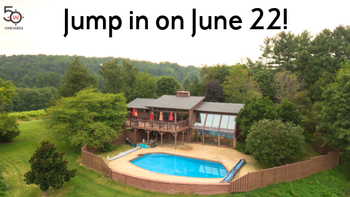 Mike & Diane are hosting the first ever pool party at the 50 West Clubhouse!
Join us at 50 West Vineyards on Saturday, June 22 to help us open our Club House Pool for the first time this season and for the first time to customers. We want to invite YOU, only our best customers, to enjoy this once in a lifetime opportunity – we finally get to take a dip in the pool!
The pool party will begin at noon and end at 4:00 pm.
Each ticket is $15 and includes access to the pool and a glass of wine. Wine will also be available to purchase by the glass and bottle.
Space is limited so don't delay!
Please be sure to bring a towel. If you do plan on swimming, please come ready to jump in and don't forget a change of clothes if you are staying past 4:00 pm.