Your Visit
50 West's tasting room and vineyards sit high on a bluff offering stunning views of the Bull Run Mountain range. We make both red and white wines produced in the classic French style.
As one of the larger farm vineyards in the state we grow fruit on five properties in northern Virginia. We are proud of our reputation for growing delicious 100% Virginia grown grapes to make exceptional wine.
In order to make the most of your time at our winery, please review these frequently asked questions which will assist you in planning your visit.
Reservations are encouraged, but not required for groups of 6 or fewer. Our indoor seating is very limited. Groups of 4 or less are welcome on the main level of the Tasting Room. For group larger than 4, please call or email the Tasting Room for an indoor reservation. We can host parties up to 8 on the upper level of the Tasting Room as long as we are not hosting a private event.
For groups of 7 to 12, outdoor reservations are available via our Tock page. For groups larger than 12, please call or email the Tasting Room to make outdoor reservation arrangements with our Tasting Room Manager - (571) 367-4760 or tastingroom@50westvineyards.com

---
Hours of Operation
Monday & Thursday 12:00 PM - 5:00 PM
Tuesday & Wednesday CLOSED
Friday 12:00 PM - 6:00 PM
Saturday & Sunday 11:00 AM - 6:00 PM
Last call is thirty minutes prior to closing.
In the event of inclement weather, our adjusted hours will be announced on our phone recording at (571) 367-4760. Updates will also be posted on our website and Facebook page.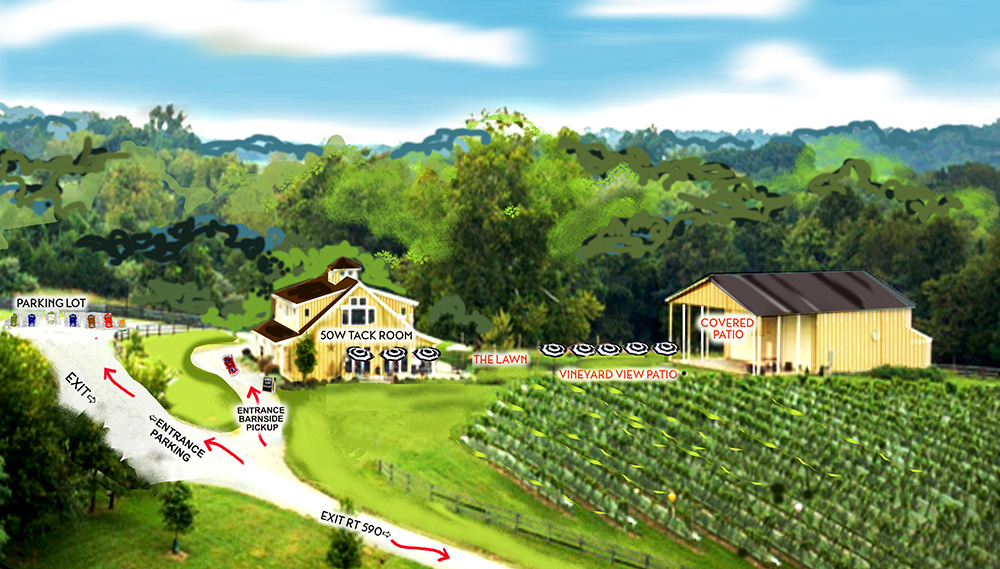 ---
Frequently Asked Questions
Are reservations required? We ask that all groups of 7 or more make advanced reservations. You may make a reservation via our Tock page. For groups of 13 or more, please contact the Tasting Room at tastingroom@50westvineyards.com or at 571-367-4760 to make advanced arrangements.
Are buses or limos permitted? Yes, however a reservation and advanced notice of oversized transporation is required before arrival.
Do you allow children? Yes, guests of all ages are welcome on our property. However, children must be accompanied and supervised by adults at all times. No exceptions.
Do you allow pets? Yes, pets are welcome on our property, but are NOT permitted inside our Tasting Room.
Can I bring my own food? Outside food is not permitted inside the Tasting Room. Outside food and non-alcoholic beverages are permitted at our outdoor seating areas. Guests that bring coolers are subject to cooler checks. Failure to comply will result in the request of putting your cooler in your vehicle.
Can I bring decor or celebrate a special occasion? Yes, however you must have a event rental in order to bring decorative items of any kind. To book a event rental space please contact our Event Manager at events@50westvineyards.com - Should you bring decorative items or copious amounts of food without a event rental you will be asked to put the items in your vehicle until your departure.
Can I reserve a covered table, fire pit or indoor space? Yes, please visit our Tock page to make a reservation.
When is last call? Last call is thirty minutes prior to closing.