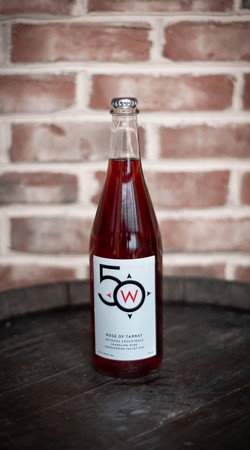 100% Tannat

Notes from the Winemaker, Corry Craighill:

After seeing the 2018 product, we decided to have another go at the Tannat Pét-Nat. A bit lighter color and body, this wine is a great first release for our 2019 wines! Tannat is a perfect candidate for this sparkling because it retains acidity throughout ripening. To create carbonation, the wine is bottled during alcoholic fermentation. CO2 is a byproduct of fermentation, so the bubbles are trapped inside the bottle upon completion of fermentation. Method Ancestral produces a more rustic style of fizz than other sparkling methods. Drink soon! It is meant to be enjoyed young.

Notes of strawberry, watermelon, raspberry, and that late spring feeling. Light body with slight effervescence.

Product Reviews
Sydney
(Mar 25, 2020 at 9:37 AM)
Perfect for spring! Bubbly and just a hint of sweetness with strawberry & watermelon notes. Such a fun wine to celebrate with... like celebrating any day ending in "Y" :)
Bridgette
(Mar 25, 2020 at 9:38 AM)
Tannat is one of my favorite grapes - usually making a full-bodied red wine! But they chose to make a rosé with this wine and also put it through a sparkling wine process. This is my favorite Pét-Nat that I have ever tasted and I couldn't believe it, but this vintage is even better than the last.
Tiffanie
(Mar 25, 2020 at 10:00 AM)
I love this tannat! Tannat is one of my favorite varaitals as it gives a full bodied red but turning the tannat into a beautiful sparkling is quite delicious! It has the perfect touch of sweetness and is definitely a bottle you can't put down!