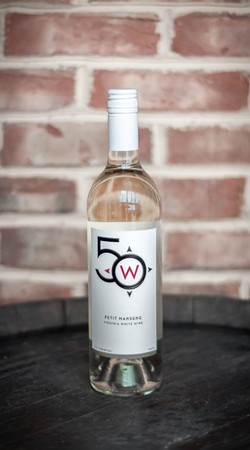 100% Petit Manseng
Notes from the Winemaker: 2018 showed the power of Petit Manseng. It has thick skins, small berries, and loose clusters—the perfect match for 2018's rain. This year we went towards a dry style because the chemistry allowed for a better balance between sugar levels and acidity. The wine is a bit more shy than previous, hotter, dryer years, but it does not lose that tropical character that is typically found with Petit Manseng.
Product Reviews
Sydney
(Mar 25, 2020 at 9:42 AM)
Love this Petit Manseng! Just a little bit sweet and very tropical!
Bridgette
(Mar 25, 2020 at 9:49 AM)
Petit Manseng is my favorite Virginia grape! This specific wine is absolutely delicious. Because of the residual sugar, this wine pairs beautifully with spicier dishes. Last night, I poured a glass of 50 West Petit Manseng to pair with my take-out spicy Pad Thai. Absolute must!