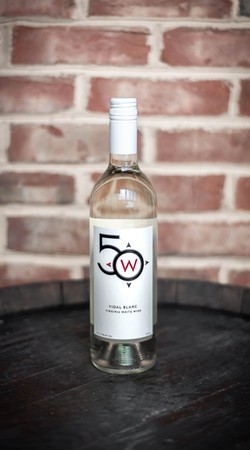 100% Vidal Blanc
Notes from the Winemaker: Being a hybrid, Vidal Blanc is a little easier to grow because it is more resistant to disease and frost pressure. We like to create a refreshing style of Vidal Blanc—approachable, just a hint of sweetness to round out the mouthfeel, and a good introduction to the wide world of hybrids. This Vidal Blanc is 100% Stainless Steel fermented and aged.
Product Reviews
Sydney
(Mar 25, 2020 at 9:40 AM)
Easy drinking, crisp, and fruit forward! Perfect to enjoy on a warm day.
Bridgette
(Mar 25, 2020 at 9:43 AM)
This is the best Vidal Blanc I have had in the state of Virginia. A lot of Vidal Blancs tend to be on the sweeter side and most are even dessert wines. Not this wine! Dry, bright and SUPER FRUITY. Perfect for a summer day at the pool.