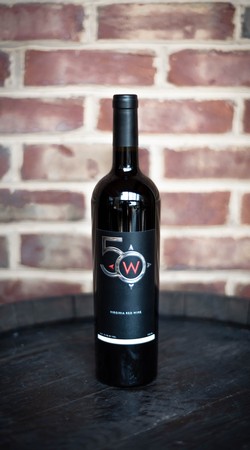 100% Tannat
Notes from the Winemaker: Tannat suites Virginia well because it ripens early and maintains a great acidity throughout the season. I like to pick based on sugar levels, flavor, and acid levels. Acidity provides freshness in the wine, so keep the natural balance is key for the picking decision.
The 2017 50 West Tannat (a new label for us) turned out to be a bigger, bolder wine than I usually make—aided by a higher percentage of new oak and the structure of the fruit. This wine can withstand a bit of age due to the tannic structure and natural acidity.
Notes of black liquorice, blackberry, charred wood, porcini mushroom, cinnamon. Full bodied and tight tannins!

Product Reviews
Sydney
(Mar 25, 2020 at 9:49 AM)
I was so excited for this wine release! This is the fullest bodied wine I've ever had from 50 West and I am loving it! The grippy tannins yet smooth mid-palate create a nice balance and a long finish.
Bridgette
(Mar 25, 2020 at 10:00 AM)
The last club release included the 2017 Tannat and the Tannat Pét-Nat. What a fun pick up! I loved both of the wines and they were so different. I recommend purchasing both as it is fun to compare!
Tiffanie
(Mar 25, 2020 at 10:03 AM)
Tannat is by far my favorite wine and this full bodied is so good! Absolutely one of my favorite 50 West wines.