Our Team
---
Mike Canney, Owner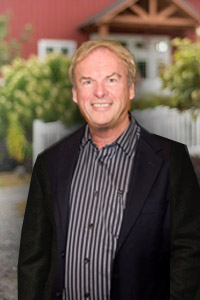 Mike is a successful entrepreneur, having started and managed eight successful companies from the ground up. He started his first several companies while in college over 30 years ago, while earning degrees in Physics and Math, he also received an MBA. He started his most successful company in 1997, Intelligence Data Systems, which became the fastest growing technology company in Virginia and one of the fastest growing privately held companies in the United States. Mike sold IDS in 2005 to L3 Communications, and started Sunset Hills Vineyard. At Sunset Hills, Mike is working to make our winery the best on the East Coast for wine quality and customer satisfaction. When not working, Mike enjoys world travel, photography, bicycling, boating, and driving race cars.
---
Diane Canney, Owner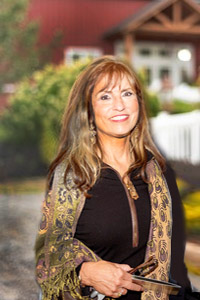 After a successful career in the Intelligence field, Diane assisted Mike in the renovation and interior design of the 1870 historic barn working with the Amish and other contractors during the construction. She has filled the barn with historical antiques, which add to the elegant ambiance of the barn and showcase its Civil War history and Amish renovations. At Sunset Hills, Diane is responsible for the customer focus and the look and feel of the farm and tasting room, as well as the design of the wine labels. Her hobbies include painting, photography, distance swimming and painting wine glasses.
---
Corrigan Herbert, Vineyard Manager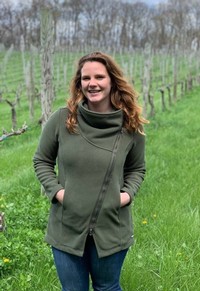 Corrigan grew up in the Finger Lakes region of New York, where she was first impressed by the beauty of vineyards. When she was in college, studying French, she realized she longed to be outdoors more, in a position where she could combine the culture and romanticism that she was getting from her French studies, with the wide open spaces and scientific reasoning of agriculture. That's when she discovered viticulture and it became her passion almost overnight. She has since graduated with a degree in Viticulture and Enology at the top of her class from Cornell University. Corrigan has worked in vineyards on both the East and West coasts and has experience in vineyard research. Corrigan believes that the many challenges posed by East coast climates prove that the successful wines grown and made here are made with a special kind of grit and determination and therefore she can appreciate all the hard work that goes in to every bottle a little more. She enjoys Riesling from the Finger Lakes and Sunset Hills' Cabernet Franc. Outside of the vineyard she enjoys hiking with her dog, baking, and gardening.