April 24, 2020 |
Rikki Cushwa
April & May Club Wines
---
The Piedmont is a new white blend wine for 50 West Vineyards that we are really excited to release! I was also really excited to pair this wine with dinner because of the bright flavors and juicy aromas! The Piedmont is blend of Chardonnay, Sauvignon Blanc, and Petit Manseng. Containing vibrant citrus notes, a dash of honey, and a hint of hay. I wanted to play on the acidity in the wine, so for dinner I made Chicken Piccata. A lemon chicken with capers in a creamy sauce a top whole grain linguine (in my attempt to be somewhat healthy). I pan seared my chicken breast for about 5 minutes on each side then set aside. I then added chicken broth, some dry white wine, 4 cloves of garlic, thyme, capers, juice from 2 lemons, and heavy cream. I let that simmer for about 5 minutes, then I added the chicken back to the pan to let the flavors come together while my pasta boiled. I strained my pasta then tossed it with a little olive oil, plated and served with a glass of 50 West Piedmont. The citrus from the chicken and the hint of cream in the sauce was the perfect flavor to compliment the new Chardonnay dominant blend.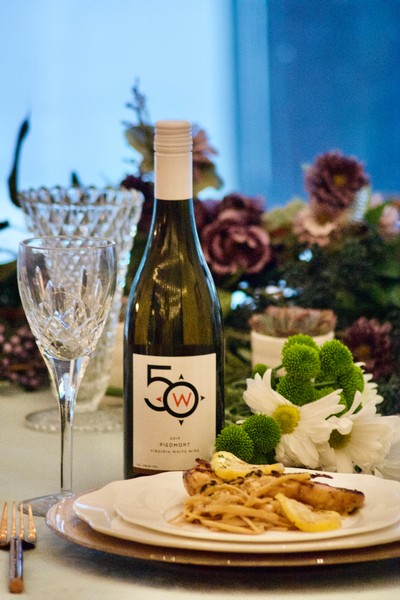 Chicken Piccata
2 large chicken breasts
½ cup all-purpose flour
½ cup parmesan
3 tbsp olive oil
4 tbsp butter
4 cloves garlic, minced
¾ cup chicken both
¼ cup dry white wine
¼ cup heavy cream
1 tbsp capers, drained
Juice from 2 lemons
1 tsp garlic powder
1 tsp onion powder
1 tsp fresh thyme
Salt and pepper
Chopped parsley (garnish)
Lemon wedges (garnish)
Cut breast into 4 cutlets, lightly pound each cutlet until about ½ inch thick. Season with salt and pepper. Place flour in a shallow dish or bowl and season with ¼ cup parmesan, salt, pepper, onion and garlic powder. Toss and coat chicken in flour mixture, one at a time, knocking off the excess flour.
Heat 2 tbsp oil and 2 tbsp butter in a large skillet on medium high. Place 2 cutlets in a time to avoid crowding. Brown the chicken until deep brown, about 2-3 minutes, then flip and cook for another 2-3 mins. Remove from skillet and set aside.
Add garlic and remaining oil and butter to the pan, stir constantly until garlic is fragrant and slight golden brown about 2 mins. Add wine, chicken stock, capers, thyme, bring to a boil and add heavy cream. Reduce to a simmer and stir until sauce becomes thick. Add lemon juice and stir. Add chicken back to pan and coat chicken in sauce for about 2 mins. Serve over pasta or rice with a lemon wedge and fresh parsley.
---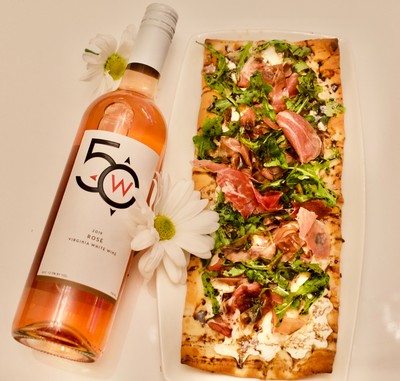 The new 50 West Rose is bursting with flavor. This Sangiovese blend is starts off with notes of strawberry, grapefruit, and watermelon. Its light and refreshing and can pretty much be paired with just about any appetizer, charcuterie board, and of course, pizza. If you were at the last 50 West Club party, then you probably tried one of my flatbreads. If you missed it, don't worry! I'm going to share my favorite flatbread recipe from the party! Its surprising just how easy, simple, and flavorful it is! I normally like to make my own flatbread dough, but since the stores are out of yeast, I searched high and low for a premade flatbread. I couldn't find any naan, but I did find a flatbread called "Brooklyn Bred". I brushed some olive oil on the crust and sprinkled a little oregano and some minced garlic. I broke open a burrata and crumbled it upon the crust, then added a little shredded mozzarella and shaved Parmesan. I popped the pizza in the oven for about 5-7 minutes then once the cheese was melted and bubbling, I added some sliced prosciutto and baked for another 5-7 minutes or until the prosciutto was slightly crispy. In a small bowl, I tossed a handful of arugula with a little bit of olive oil, salt and pepper. Then I topped with pizza with the arugula mix, a sprinkle of red pepper flakes, and a heavy drizzle of balsamic glaze. The creamy burrata, salty prosciutto, tangy yet peppery arugula, and a hint of sweet from the glaze was the perfect companion for the dry and fruit forward rose. Of course this wine is perfectly fine on its own, but with a simple pizza, it shines!
Prosciutto and arugula flatbread
1 flatbread or pizza dough
1-2 tbsp olive oil
1 clove minced garlic
4-6 oz prosciutto
1/2 cup arugula
2 burrata
1/2 cup Parmesan shredded or shaved
1/2 cup mozzarella (fresh or shredded)
2 tbsp balsamic glaze
Salt and pepper
Red pepper flakes (optional)
1 tsp Oregano
Preheat oven to 425°. Lightly brush crust with olive oil, add minced garlic, and a sprinkle of oregano. Break open the burrata with a knife and crumble the cheese onto the crust. Add Parmesan and mozzarella and bake for 5-7 mins (until cheese has melted). Add prosciutto, bake for another 5-7 mins. In a small bowl add arugula, 1 tsp olive oil, salt and pepper, and toss til well coated. Remove from oven, add arugula mix, sprinkle red pepper flakes, drizzle with balsamic glaze. Enjoy!
---
You can order these wines online by CLICKING HERE. Bring home 100% Virginia wine from the sister to the Best Winery in Loudoun. Our wines are available via two safe and easy ways; Barn Side pickup Thursdays through Mondays 11 to 5 PM at Sunset Hills, or visit us Saturday and Sunday at 50 West from 12-5. You may also ship your wine directly to your door with UPS! Be sure to tag us on Facebook or Instagram if you try out these recipes and pairings or even just to show us how you are enjoying these wines! Cheers!