December 7, 2017 |
Corry Craighill
The cellar to-do list is still quite long: top all 350 barrels, watch malolactic fermentation trudge on, clean the residual grape matter still plastered to the sorting table, all the while preparing for the first bottling of the year. Yes, the hours have relaxed, but the work goes on.
First thing's first--the new wine. For whites, we are focused on finishing out the last bit of residual sugar in order to catch the wine before malolactic fermentation takes off. In reds, we encourage malolactic fermentation to go through on every single barrel. Side note: Malolactic fermentation is a secondary fermentation that converts malic acid (tart) to lactic acid (creamy). Once the wines are at the appropriate stage, we will add a small amount of sulphur to each barrel. We do this in order to protect the wine from oxidation or any other bacterial growth. Afterwards, every barrel will get topped, tightly bunged, and put to bed.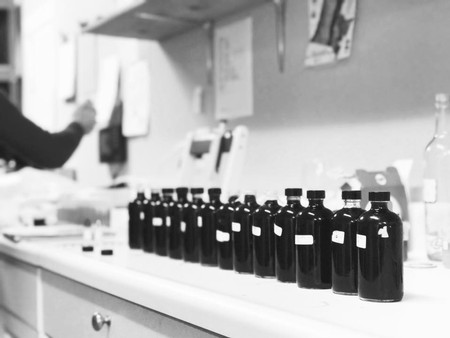 Then we look backwards. The pieces for 2016 Mosaic, Reserve Cabernet Franc, and Aldie Heights Cuvee are still patiently waiting to be tasted, tested, and blended. For me, blending is one of the more "fun winemaker" tasks that my job entails. It is the romantic part--the part that my friends, family, and neighbors think I do on a regular basis. Challenges do arise though! Analyzing the differences between barrels and vigorously taking notes for every sniff, swirl, and spit. Finding the balance of structure, body, acidity, length, fruit integrity, and age-ability for each wine when you have seemingly endless options to choose from--THAT can be challenging.
While 2017 may be coming to a close, the products of this year's harvest will be stored in the cellar patiently waiting their next step in 2018!