August 16, 2017 |
Corry Craighill
We're often asked 'if we grow all of our own grapes, then why are the vines so small at 50 West?' That's because 50 West is our youngest of our five sites. The property at 50 West had excellent potential for a vineyard so that's exactly what we decided to do - plant a vineyard!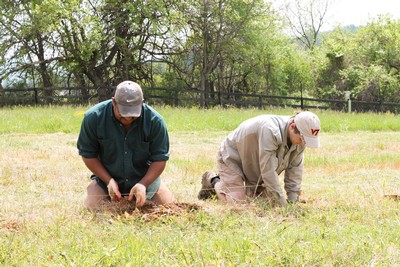 Planting Albariño Vines at 50 West Vineyards
Not only did we see the potential of the Middleburg area and being surrounded by other sophisticated wineries but also a great site for growing grapes. Heading off the beaten path, Sauvignon Blanc and Albariño were selected instead of the more well known Chardonnay and Viognier, which we grow just down the road at our Sunset Hills property. Cabernet Sauvignon is also to your right as your drive up to our tasting room.
As you meander up the driveway, you might notice that these vines have little to no fruit on them. But why? In the first two years of the vine's life, we want them to focus on root growth and vine balance.
In the first year, the vines need enough leaves to support downward root growth. Through photosynthesis, the vines generate enough energy to drive a deeper and more established root system for future upward growth. Simplified: healthy leaves equal healthy roots!
In the second year of growth, like our Sauv Blanc and Albariño, the focus is still vegetal growth. If the cane does not reach the first wire of the trellis system, then we will continue to treat the vine as if it were still in its first year. Why? Because the vine is not strong enough and needs more time to establish itself.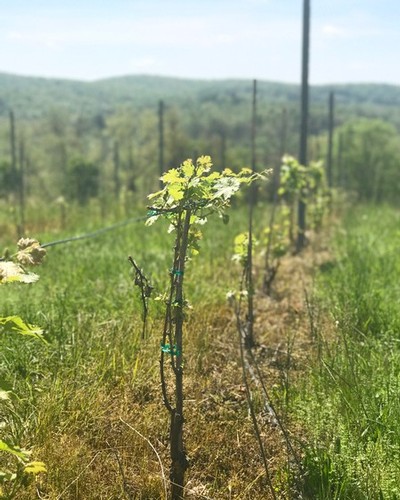 Second Year Cabernet Sauvignon Vine with Springtime Growth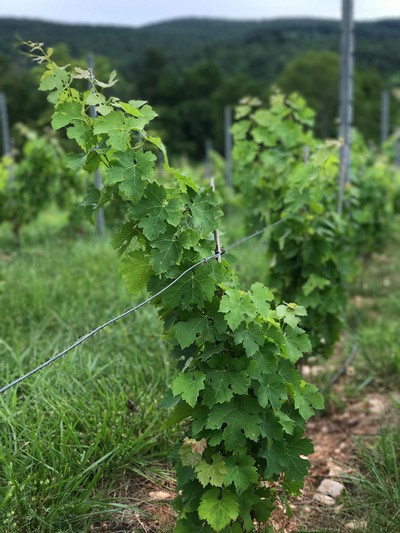 Second Year Cabernet Sauvignon Vine with Late Summer Growth
If the vine is strong, then we will be able to select a trunk and cordon for the next year. On the cordon, we will eventually get shoots which will then give us some fruit in the third year.
Take a look at the diagram to see the breakdown of the vine in its first two years of growth.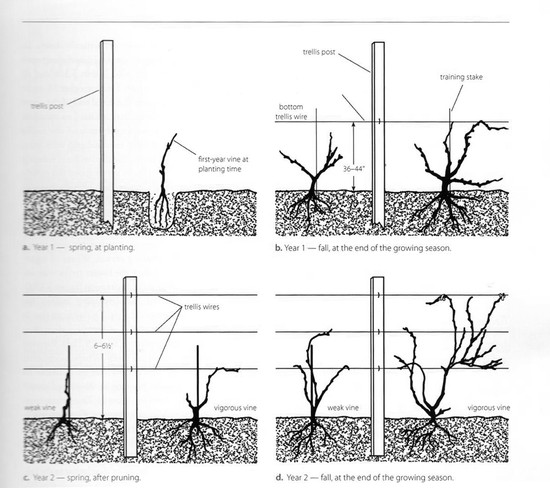 Wolf, Tony; Reynolds, Andrew. (2008). Pruning and Training. In Wolf, Tony (Ed.), Wine Grape Production Guide for Eastern North America (p. 111). Blacksburg, VA: Virginia Polytechnic Institute and State University.
The wait is worth it, if you ask our team! We're patiently tending to these vines knowing that all of this hard work will payoff in the bounty of grapes produced in the future.