February 7, 2021 |
Hope Lehman
Homemade Valentine's Day Treats to Pair with Your Favorite 50 West Wines!
Next Saturday and Sunday 50 West Vineyards will be having our Valentine's Day Wine and Truffle Pairing. For those that have tickets to the event, there will be three different truffles that you will be trying which we believe will be a perfect accompaniment.
The first will be milk chocolate truffles that will be paired with our 2019 Albariño which will complement this crisp white with the perfect combination of sweetness and richness. Second, our 2019 Sunset Rose will be paired with white chocolate raspberry truffles. The flavors of juicy red fruit from this wine will go very well with the intense sweetness of the white chocolate, along with the hint of tartness thanks to the raspberry. Finally, rich dark chocolate truffles will be paired with our 2012 Petit Verdot. The bold dry flavors of this red wine will be a great compliment to the deep rich flavor of the dark chocolate.
For those that are just coming in to visit our tasting room next weekend, you will have the opportunity to have red velvet cheesecake brownie bites! Each tasty treat will be hand-prepared by myself, and I can't wait for you to try them.
While I can't divulge all of my secrets, I can provide the methods for how I made the Dark Chocolate Truffles and the Red Velvet Cheesecake Brownie bites.
-------------------
Dark Chocolate Truffles
This recipe is something that is great to make at home, and it does not require many ingredients! All that is required is simply good dark chocolate, heavy cream, butter, and vanilla extract. There is very little actual cooking so anybody can become a master of this recipe.
- The recipe I am providing will make 10-12 truffles -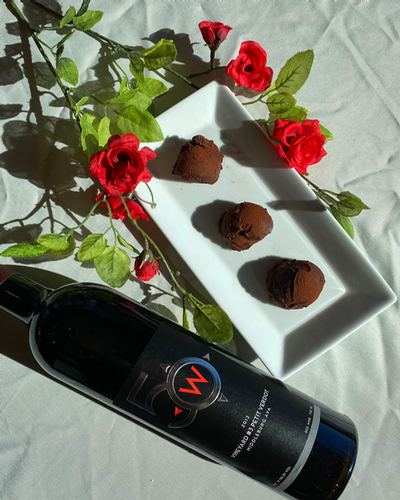 Ingredients
1 four-ounce dark chocolate bar (I used 60% Ghiradelli chocolate)
⅓ cup of heavy cream
1 ½ teaspoons of unsalted butter (I like it to be at room temperature)
¼ teaspoon of vanilla extract
That's it!
Recipe Steps
Step 1: Finely chop the dark chocolate and place it in a heat proof bowl to set aside.
Step 2: Place the heavy cream in a small saucepan until it simmers! Make sure to put the burner on medium heat.
Step 3: Add the butter and vanilla extract to the chocolate, and then pour the simmering cream on top of the chocolate. Let it sit for 5 minutes!
Step 4: Once the chocolate is completely melted, stir everything together and then place plastic wrap onto the surface and refrigerate for 1-2 hours to let the truffle mixture set.
Step 5: Take the mixture out of the fridge and use a spoon or small ice cream scoop to form into balls. (To ensure the chocolate gets off the spoon, coat your scoop or spoon with a little oil)
Step 6: Enjoy this rich and indulgent truffle!
- These truffles will be good in the fridge for about two weeks. -
----------------------
Red Velvet Cheesecake Brownie Bites
Love brownies? Love red velvet cake? Love cheesecake? Of course you do, and this recipe is the greatest hits of all of those! Again, this recipe involves very little prep work, although make sure you have a muffin tin to get the desired shape of the bite.
- This recipe will make 15 mini bites -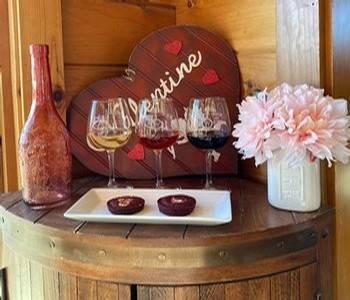 Ingredients
4 tablespoons of melted unsalted butter
½ cup of sugar
⅛ cup of cocoa powder
¼ teaspoon of vanilla extract
½ tablespoon of red food coloring to get the distinct Red Velvet look
¼ teaspoon of white vinegar
Pinch of salt
1 egg
½ cup of flour
For the cheesecake filling:
4 oz of softened cream cheese
1 ½ tablespoons of sugar
¼ teaspoon of vanilla extract
½ of one egg yolk
Recipe Steps
Step 1: Preheat the oven to 350 degrees and grease your muffin pan.
Step 2: In a mixing bowl, combine the melted butter sugar, cocoa powder, vanilla extract, food coloring, vinegar and salt. (I prefer to hand mix it but you are welcome to use mechanical mixer)
Step 3: Add the eggs to the mix, stir, and then add the flour, stir again until everything is fully incorporated. This will be your brownie batter.
Step 4: Utilizing a stand mixer with a paddle attachment (the one that looks like a triangle) mix the cream cheese, sugar, eggs, and vanilla extract until combined. Once combined put into a piping bag or a plastic sandwich bag that has one of the corners cut off (This is what I used)
Step 5: Using a ice cream scoop or spoon, place a tablespoon size of the brownie batter mixture into the muffin pan, and pipe about one teaspoon of the cheesecake filling on the brownie batter.
Step 6: Once you run out of mixture or have 15 brownie bites, place into the oven and bake for 12 minutes exactly.
Step 7: Remove from the oven and let cool for 5 minutes before taking out of the tin
Step 8: Enjoy!
- These brownie bites will be best for one week at room temperature. -
I can't wait for you to make each of these recipes in your own home, and to try the milk chocolate and white chocolate raspberry truffles next weekend!