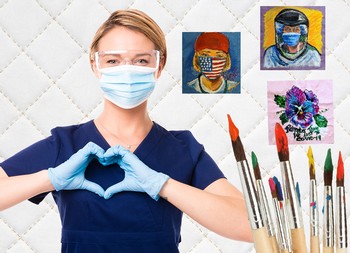 Sunday, September 6, 1:00pm-3:00pm
$15.00 Adults and $7.00 Children

Sip & Paint - $20 for Adults
The COVID-19 US Honor Quilt Project, a grassroots community art project, is launching in response to national sentiments of grief and uncertainty. To enable people across America to express gratitude for medical professionals and frontline workers fighting the COVID-19 pandemic and to honor those who have suffered or died, we're encouraging people around the country to design 10" x 10" squares.*
The quilt will have its first public display at the Loudoun Arts First Film Festival at 50 West Vineyards September 10-19th.
Creative Mankind will bring paints, pens, and stencils to help you make your own panel for the COVID-19 Honor Quilt Project.
The cost of your class will cover supplies and instructions and the rest will be donated to Loudoun First Responders.
All front line workers with IDs, including teachers, nurses, doctors, paramedics, firefighters, police, and restaurant/grocery workers can paint panels for free.