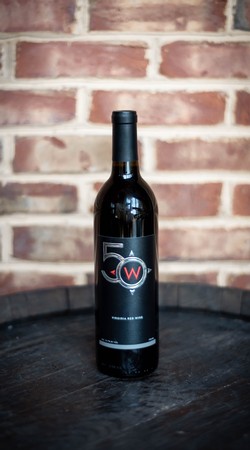 100% Chambourcin
Notes from the Winemaker: The 2017 Chambourcin, a Gold Medal winner in the 2019 Loudoun Wine Awards, comes from our vineyard in Upperville, VA. Because Chambourcin tends to be fairly vigorous, we train our Chambourcin on high wire instead of the more widely used VSP trellising system. Known more for its freshness than tannic structure, the 2017 Chambourcin delivers a light bodied wine full of floral and fruit-forward aromatics. Notes of rose petal, dark red cherry, plum, and light roast coffee.
Product Reviews
Sydney
(Mar 25, 2020 at 9:43 AM)
I'm typically not the biggest fan of Chambourcin, but this one is amazing! Light bodied and easy to pair with a huge variety of dishes. Definitely a go-to!
Bridgette
(Mar 25, 2020 at 9:53 AM)
Chambourcin is a wine that I have seen all over the Commonwealth. 50 West does it best, in my opinion. I love grabbing a bottle of this wine and a bread basket at the winery to help me take in the views!