October 2, 2017 |
Corry Craighill
With this type of weather, we have the luxury to decide when to pick. Some vintages, we are checking multiple weather stations daily to see which weatherman can offer us the most optimistic forecast only to find that the 80% chance of rain causes a hurried picking spree. Luckily, after the rains that started out September were over, the forecasts have been quite pleasant. Our vines are basking in this 80--90 degree weather. Sure, we could ask for cooler nights to retain that acidity, but I will take sunshine over rain any autumn day.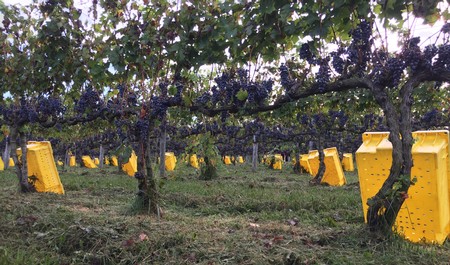 Other than weather, we are walking our vineyards on a regular basis to look and taste for ripeness. As verasion hits, the fruit gets softer, more plump and sweet. As the sugar levels rise, the pH also continues to inch upwards causing the fruit to become less acidic with ripening. Balance--it is all about balance. We are looking and tasting for the balance between sugar levels and acidity, between taste, texture, and numbers.
What do I mean by numbers? When we walk the vineyards, we often take a random berry sampling of the vineyard. Every few steps, pause, grab a berry, and throw it in a bag. Up and down a few rows, and you have quite the sample! Back to the lab, we crush the fruit in the bag to get the juice in order to test the Brix (the sugar content) and pH.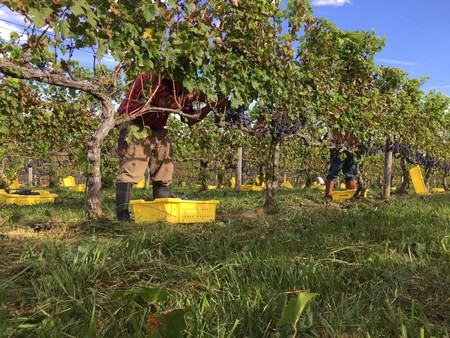 As a young winemaker new to the area and to our vineyards, I hope to learn more about the nuances that each site can bring. Sometimes the picking decisions also depend on location. For example, last year we picked one of our Cabernet Franc sites in three sections--top of the hill, the slope, and the bottom of the hill. The slope, with better sun exposure than the bottom and the best drainage, gave us the most complex wine. It has a clean texture, a depth and complexity that the other sections fall just short of.
These types of picking decisions can really affect the wine. With good weather in sight, we are continuing to balance taste, chemistry, and site selection. Keep an eye on our Facebook page for harvesting updates!