UPCOMING EVENTS AT 50 WEST
---

How about a little live music from a favorite area musician? Here's who's coming up:
Sunday, January 19: Shane Gamble
See all of our upcoming musicians >
---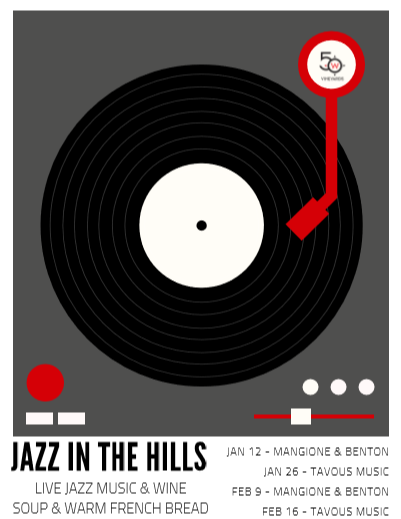 Beat the winter blues and join us in January and February for Jazz in the Hills! Enjoy music by Mangione & Benton Jazz, Tavous Music, and Bergamot Rose. During Jazz in the Hills we'll feature soups and our delicious bread and cheese baskets paired with our wines.
Featured Musicians:
January 26th: Tavous Music – a violinist and guitar duo that performs a variety of musical styles ranging from gypsy jazz to traditional Persian music.
February 9th: Mangione & Benton Jazz a guitar and piano/guitar duo featuring instrumental jazz standards from the great American standard songbook in the style of such jazz greats as Wes Montgomery, Joe Pass, Miles Davis, Duke Ellington and Dave Brubeck, also performing jazzy arrangements of popular modern songs.
February 16th: Bergamot Rose - Nouveau Alternative & French Fusion. A sound palette of world rhythms infused with a French twist. Inspired by early '90's new wave, Bergamot Rose's songs are composed of tart lyrics balanced by vibrant rhythms and instrumentatio
Food & Wine Feature:
Baked Potato Soup & Chardonnay; Chili & Aldie Heights Cuvee
---

February 16 & 17th - Sauvignon Blanc Around The World
During Valentine's weekend we will highlight our wine feature of the month, Sauvignon Blanc, with a special around the world tasting. We'll feature the 50 West Sauvignon Blanc, a New Zealand Sauvignon Blanc, White Bordeaux, and Sancerre. The featured wine will be available for purchase while supplies last. Purchase the 50 West Sauvignon Blanc as a two or three pack with any of the other featured wine and receive an additional 10% discount. Tasting fee - $15 (reservations under 8 people not required).
---

February 16 & 17th - Indulge in a special wine and truffle pairing this Valentine's Day!
We are bringing the city of love, Paris, for Valentine's Weekend. Treat your Valentine to a wine and truffle pairing and afterwards enjoy our popular gourmet warm bread and cheese basket. Bergamot Rose duo will be playing French fusion and world jazz to set the mood.
2017 Chardonnay with Lemon Almond Praline
2017 Vidal Blanc paired with Bananas Foster
2017 Ashby Gap paired with Raspberry
$20 for the Wine & Truffle Pairing
Two Loudoun County favorites are paired together - chocolates by The Conche and Virginia wine by 50 West. The truffle pairings were "passionately sourced and tastefully created" by Chef Santosh Tiptur of The Conche.
---
February Wine Feature: Sauvignon Blanc

Recently New Zealand has been a popular region for producers of Sauvignon Blanc, however did you know that it originated in Bordeaux and is older than Cabernet Sauvignon? In Bordeaux it is primarily blended with Semillon to make White Bordeaux. Sauvignon Blanc travelled north to the appellation Sancerre in the Loire Valley where it was produced as a single varietal and named after the region, Sancerre.
The 50 West Vineyards 2017 Sauvignon Blanc in style leans towards the French Sauvignon Blancs found in Sancerre due to its light play of acidity and lower alcohol. The goal is to produce a wine that is graceful yet full of energy. In the cellar, we chose to keep some wine in stainless steel to keep the more reductive qualities often found with this varietal. The barrel aged portion gave depth and complexity to the blend. This wine offers hints of honeydew melon, fresh squeezed lemon, and slate. Overall a delicate and crisp wine.
---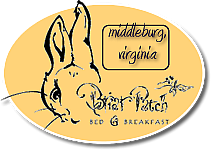 The Briar Patch Bed & Breakfast Inn is featuring 50 West wines during their cooking class on January 25th. We will be hosting a tasting to accompany the Chef's hors d'oeuvres. 50 West wines will also be featured during dinner on January 26th. Visit Briar Patch's website here for full details.
---

Flights are All Right!
Only interested in white wines? Think red is where it's at? Mix and match your perfect self-guided tasting with a flight!
Enjoy three wines of your choice from our tasting menu. You'll receive a two ounce pour of each, allowing for the perfect opportunity to sip and compare.
Flights are $10 each and are always available!