UPCOMING EVENTS AT 50 WEST
---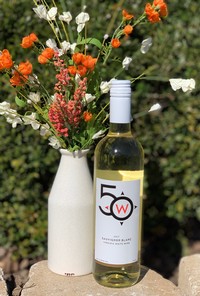 For a limited time, our 2017 Sauvignon Blanc is 50% off when you purchase 12 or more bottles!
Plus, get $5 flat rate shipping when you select "Ground" at checkout; or select "Pickup" and come visit us at 50 West Vineyards.
---

How about a little live music from a favorite area musician? Here's who's coming up:
Saturday, March 23: Chris Bone
See all of our upcoming musicians >
---
March Feature: Hummus & Wine Pairing
Have you noticed that hummus and pita chips is a "go to" appetizer for gatherings? Select the hummus and wine pairing the next time you are in the tasting room during the month of March and we'll show you how to expertly pair wine with four different flavors of hummus. Wow your guests at your next party with your expert pairing knowledge! After your tasting you'll receive a 10% discount on a wine & hummus to enjoy at the winery or to take home. Reservations not required.
Pairings:
50 West 2017 Sauvignon Blanc paired with Black Bean & Cilantro Hummus
50 West 2017 Rose of Sangiovese paired with Traditional Hummus
50 West 2017 Petit Manseng paired with Jalapeno Hummus
50 West 2017 Ashby Gap paired with Roasted Red Pepper Hummus
Add this feature on to your wine tasting for only $5!
---

Two Loudoun County favorites are paired together - chocolates by The Conche and Virginia wine by 50 West. The truffle pairings were "passionately sourced and tastefully created" by Chef Santosh Tiptur of The Conche.
2017 Chardonnay with Lemon Almond Praline
2017 Vidal Blanc paired with Bananas Foster
2017 Ashby Gap paired with Raspberry
$20 for the Wine & Truffle Pairing
---

Flights are All Right!
Only interested in white wines? Think red is where it's at? Mix and match your perfect self-guided tasting with a flight!
Enjoy three wines of your choice from our tasting menu. You'll receive a two ounce pour of each, allowing for the perfect opportunity to sip and compare.
Flights are $10 each and are always available!